In 1981, two National Semiconductor engineers, Robert Swanson and Bob Dobkin, became so fed up with their employer that they left to start their own company. They founded Linear Technology to do what they had been doing at National, designing and manufacturing analog semiconductors, just with greater focus and less bureaucracy. Over the decades, Linear earned great financial success in part because of its unique culture. It built such a reputation for its low employee turnover (and extraordinary profitability), that a book was written about it: The Company That No One Leaves. (See also our prior blog on "Why Nobody Leaves the Largest Private Software Company in the World").
FOUNDING PRINCIPLES
Towards the end of his career at National as head of National's analog division, Swanson experienced too much bureaucracy and office politics. One specific problem was National's new matrix management system—a system where "everybody was in charge of everything and nobody was responsible for anything."
Swanson also had become frustrated by National wasting the money generated from National's analog division. National got into the business of building wristwatches and computers and trying to compete with Japanese memory manufacturers. Although the analog division was the most profitable division at National, Dobkin recounts that National had built such a high manufacturing queue of low margin digital products, that he had to bribe the line manager with bottles of wine to insert their analog products higher up in the queue.
All this frustration, coupled with Swanson's skepticism in National's belief that digital technology was the only future for the semiconductor industry, led them to leave and found Linear Technologies. They wanted a company with "absolutely zero office politics".
ELIMINATING POLITICS AND EMPIRES
In a 2015 interview, Dobkin spoke of how and why there was no room for politics at Linear:
"We are very careful that people do not have their own empires. Everybody who works for Linear is working for Linear.… Then the cooperation is great, the interchange of ideas is great; we are all marching to the same tune. It helps the company and the customer."
Harmonizing with Dobkin's thoughts, Swanson added that Linear can have the right culture forever by simply keeping politics to a minimum. If bureaucracy and politics get out of hand, innovators become frustrated and leave. If all your innovators leave, the future of the business is in doubt.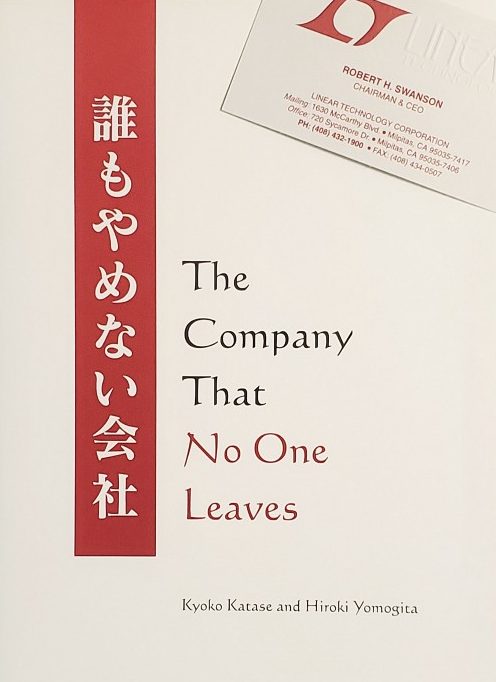 FOCUSED ON PEOPLE
According to The Company That No One Leaves, Linear was an engineer's paradise for three broad reasons:
Engineers could expect high compensation (higher than average base salary and a profit sharing equivalent to 50% of their annual income);
Engineers have great freedom with product planning and development; and
Engineers had the opportunity to work with the best analog designers (Linear's stable of "gurus") in the world. Good engineers attract other good engineers.
The high level of freedom also correlates to a high level of responsibility an engineer has at Linear. Engineers are highly involved with every aspect of designing a new product:
"Engineers present an outline specification and describe the product they hope to produce, as well as the market demand for the product. The presentations … describe similar products manufactured by other companies and how the product proposed is superior to these others. The proposing engineer even touches on manufacturing processes. Before making their appearance at such a meeting, an engineer will think carefully about issues such as yield, packaging and the size of the final product."
Engineers must have a high degree of intimacy with customers to understand their current and future needs. The engineer can then design and develop a product for which the customer will pay a premium. This is a type of decentralization and widespread entrepreneurialism that Andvari loves to see in any company it investigates.
ANDVARI TAKEAWAY
Linear grew steadily and profitably from its founding in 1981 until Analog Digital acquired it in 2016 for $14.8 billion. In 2016, Linear had revenues of $1.4 billion and an operating margin of 44%. A big reason for Linear's sustained success in the cutthroat semiconductor industry is the company's culture. Swanson said that if there was only one thing he could take credit for as founder and CEO, it would be building that kind of culture where bureaucracy is kept to a minimum and where it's a paradise to be an engineer. Companies with cultures like Linear, where no one wants to leave, are exactly what Andvari looks for in its continuing search for great businesses.
---
Sources and Additional Reading/Viewing
Audio / Video
"Interview with Bob Swanson", March 11, 2006, Stanford University, Department of Special Collections and University Archives
"Linear Technology Oral History Panel", March  31, 2014, Computer History Museum.
"Oral History of Bob Dobkin", June 16, 2014, Computer History Museum.
Written Articles and Interviews

_________
_________
IMPORTANT DISCLOSURE AND DISCLAIMERS
Investment strategies managed by Andvari Associates LLC ("Andvari") may have a position in the securities or assets discussed in this article. At the time of publication of this blog, Andvari clients had no position in any company mentioned. Andvari may re-evaluate its holdings in any mentioned securities and may buy, sell or cover certain positions without notice.

This document and the information contained herein are for educational and informational purposes only and do not constitute, and should not be construed as, an offer to sell, or a solicitation of an offer to buy, any securities or related financial instruments. This document contains information and views as of the date indicated and such information and views are subject to change without notice. Andvari has no duty or obligation to update the information contained herein. Past investment performance is not an indication of future results. Full Disclaimer.

© 2021 Andvari Associates LLC